MOOSEHEART | Well-Loved Light Show Discontinued as New Events are Planned at Mooseheart In Batavia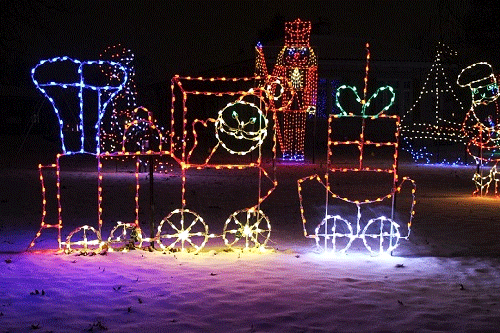 NEW EVENTS INCLUDE A PANCAKE BREAKFAST WITH SANTA, AN ANNUAL 5K AND MORE
MOOSEHEART– After 12 successful renditions, Mooseheart has made the decision to bring its Holiday Lights Show to an end. The 2021 show, which ended Dec. 31, will be the campus' last. Despite the season-long light show ending, Mooseheart will continue to host the Annual 5K Run/Walk through campus that has traditionally previewed the start of the show. The 2022 version, titled Rudolph's Run for Mooseheart, will occur during the morning hours on Saturday, Nov. 19.
"We are thankful and privileged for our experiences over the past 12 years with the Holiday Lights Show. The joy of the Holiday Lights Show was to provide families with a "holiday tradition." This was always the forefront of our commitment. Although, there were so many successes, the current demands and ever-increasing popularity of other Holiday Shows in the area have made it increasingly difficult to produce. It took a tremendous amount of volunteer effort, resources and time during the month-long show each year," Mooseheart Executive Director Gary Urwiler said.
Mooseheart's Holiday Lights Show evolved over the years, especially during the COVID-19 pandemic. Activities at the campus Fieldhouse, including visits with Santa Claus, were removed from the show, but the public loved the idea of having a family activity with minimal risk. This was demonstrated by a peak of 20,000 cars going through the lights during the 2020 season.
What never changed was the unique array of lighted displays erected on a 1.9-mile loop through the campus. Some homes and buildings were floodlit with colored lights, while lighted scenes and characters filled the areas on both sides of the road.
"Each year we would replace one-third of the displays to keep the show "fresh." Additionally, we held contests, in which attendees had to count items along the route, like moose or snowmen, to be eligible for a prize. That was always popular and was another way of making sure the show was a little different from year to year. We had many people share with us that they never missed a show in its 12 years. As they left, most of those same people would tell us they loved the show and were looking forward to coming again next year. We always enjoyed hearing those comments and seeing familiar faces each year," Urwiler said.
In place of the Holiday Lights Show, and in addition to Rudolph's Run for Mooseheart, the campus has decided to host a "Pancake Breakfast with Santa" on Dec. 10, 2022. More information will be available for as the event nears.
"Overall, we feel very fortunate and blessed by the community for their support of our Holiday Lights Show over the past 12 years. We look forward to the Pancake Breakfast with Santa as a new endeavor for 2022," Urwiler said.
WHERE TO SEE THE CHRISTMAS LIGHTS